Introductions Are In Order
We are a small family-owned company that is veteran owned/ran. Bob has always had a passion for woodworking since high school wood shop (Go Beavers). He is creative and loves to design unique customized projects. He also really really loves unique wood that has a lot of character. Curly maple, tap maple, heck ya! Combine those two elements and that is the formula for how Berserk Creations started. Creativity + love of wood= Berserk! We prefer locally sourced and sustainable hardwoods. There have been times we drive down the road and see a tree is being cut down. Bob will look like he might cry, seriously, because it was a good tree that had a long life ahead of it.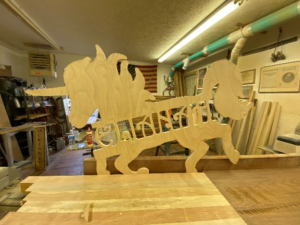 We love to work directly with clients to create special one-of-a-kind projects. We are a free-spirited crazy group who are happier owning and running our own smaller company, rather than working for a larger less personal corporation. We will work with you to create an awesome and unique creation. We do not think any project is not cool or weird and we will not judge any idea.
Personalization is also our thang………..
One of our main components of our business is PERSONALIZATION. Our son has a unique name, and I cannot go out and buy any personalized items. They just do not simply exist. How many times has this happened to you? Well, we now offer a solution. From personalized wall signs to door mats, we can personalize.